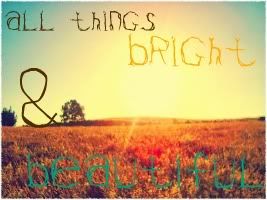 And next we come to Day 3 of
The All Things Bright & Beautiful Blog Party
hosted by
Grace at Puddles of Memories
. Today's post will be a...
Now this list is extremely optimistic. I realize I have a few extra thick ones in the mix, so in reality I know I won't get through all these... but I like to think that I could. But the first one is required, and since I'm reading it right now, I know I'll finish it before the end of summer... Actually, I know I'll finish the first three, it's the rest I'm unsure of.
1.
The Pickwick Papers
Charles Dickens
2.
The Miss. Marple Collection
Agatha Christie
I want to be just like Miss. Marple when I grow up.
3.
The Gathering Storm
Winston Churchill
4.
A Swiftly Tilting Plant
Madeleine L'Engle
5.
The Catcher and The Rye
J. D. Salinger
6.
Wives and Daughters
Elizabeth Cleghorn Gaskell
7.
The Old Man and The Sea
Ernest Hemingway
I read it years ago in high school, but I think I'll like it better now.
8.
Tess of The D'Urbervilles
Thomas Hardy
9.
Up From Slavery
Booker T. Washington
10.
The Remains of The Day
Kazuo Ishiguro